REVIEWED BY Monique Cashmere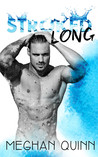 Stroked Long by Meghan Quinn
My rating: 5 of 5 stars
This is the second book in Meghan's sport series and it's my favourite so far. We know Megan can write humor but we get more for our dollar with a touch of the dark side with some serious issues. It is written in dual POV, so getting a glimpse from both sides is terrific.
Our hero has demons from a traumatic incident in his teens that he feels responsible for and has left him with deep scars. It also triggers a disorder that he tries to manage every day, some better than others. There are only four people trusted enough to know that this Gold Medalist has a troubled past. Then along comes Ruby – perky and quirky Ruby. She is sure set to mix things up for Bodi and change his life for the better as she is so colourful.
Bodi is such a tormented and broken sole that you will want to ease his pain and hug him from the first chapter. The vulnerability of Bodi is touching and sweet and endearing and just damn sexy! Add the sports swimming body and you now have your next BBF. But be warned, Rubes won't give him up too easily, she is feisty. She is drawn to him for so many reasons but it's his kind and alluring heart that makes her fall for this Olympian.
Their story is not all light hearted, there is more angst than you are expecting but it is pure joy for me. Nothing better than a roller coaster ride of emotions when reading. While things are running smoothly for this couple, the interaction is exquisite and special. To see Bodi opening up and slowly forgiving himself is magic. To watch them both accept each other – magical!
This book is a standalone, but we met Bodi in book one and we also get some details of Hollis who is the hero in book three. I would recommend this book to any reader who enjoys a good laugh, a little cry and some gasping. Bring on the next book!
Review for JoandIsaLoveBooksBlog.