REVIEWED BY Melinda Lazar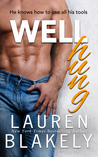 Well Hung by Lauren Blakely
My rating: 5 of 5 stars
Every time I pick up a book from this series, I wonder if Blakely will manage to deliver a fresh story, something different to her previous. Will the characters be interesting? Will I still be entertained? Will I laugh? Will I be invested? The answer to all of these questions and more is a firm and unequivocal yes!
We briefly met Wyatt and Natalie in Mister O and I couldn't wait to read their story. The relationship between them is somewhat forbidden: boss and assistant but it just seems so damn easy! The two have such an awesome relationship. They talk work, talk karate, talk dirty. It's just delicious all round. They are such fun and funny characters and I truly could have kept on reading their story.
As Natalie says, Wyatt is the unicorn of men; he's funny, sweet, and well hung. Given the debacles of relationships past, he's understandably wary of moving things beyond employer/employee into something more. I love how he sees Natalie as bad ass and tough and knows how to give her exactly what she needs, because frankly, she's sick of boring men. Sigh. Let the record show Wyatt Hammer knows how to use all the tools in his arsenal. ALL of them. Ahem.
I absolutely cannot wait for Chase and Josie in Full Package (January!!!!)! And to top it off, Blakely has well and truly whet my appetite for The Sexy One with that brief glimpse of Simon and Abby. Incidentally, how does she come up with these titles?
I've said it before but it's worth repeating: Blakely writes brilliantly from a male POV! I just wonder where she gets her knowledge and inspiration from :p. This series is a must-read and one I constantly recommend. Go on, you won't be disappointed.
*arc received in exchange for honest review.
**Reviewed by Melinda for Jo&IsaLoveBooks Blog.