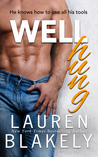 REVIEWED BY Monique Cashmere
I am hooked on this series. If you are looking for a great Rom-Com, you are going to be hooked too. Lauren Blakey knows how to write romance, but also how to add humor and banter. They way she writes in the male POV is awesome too. In this series, they are all standalones, but if you read them in order, you are introduced to the next books characters very briefly. Up next is Simon and Abby, then Chase and Josie, which are much anticipated by us fans.
Wyatt first appeared in Mister O, as he is Nick's twin brother. He is cocky, but has a very softer side. He has had some bad relationships, and has had to learn the hard way that work and pleasure are not to be mixed. Too bad he finds his new business manager very intriguing indeed. Natalie, who is Charlotte's younger sister, hasn't found her feet yet, but is hoping working with Wyatt and doing her Karate classes at night is the perfect balance. They need to travel together to quote for a job in Vegas, and you know the saying, What Happens in Vegas – Stays in Vegas, but does it? They have one wild night that might stay with them forever.
I just loved the way these two came together. It was their kindred spirits that had me from the get go. These two might even be my favs, but it changes all the time and I am sure it will again with the next book. Well Hung and Frisky Mittens are a story not to be missed.
Reviewed for JoandIsaLoveBooksBlog.