Reviewed by Becky Cox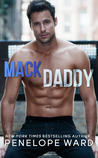 Mack Daddy by Penelope Ward
My rating: 4 of 5 stars
★★★★
Loved loved Mackenzie! He is pretty perfect, except for the whole breaking Frankie's heart thing.
Frankie had blossomed since college. She had grown more confident. Definitely dressed better. She still wasn't a fan of people. Kids yes, adults, not so much. I liked Frankie. She was heart broken but proceeded to achieve her goals. She may have hidden emotionally for a while but she made it happen career wise.
Mack is an ovary buster. He is a caring, involved single father. He's definitely on all the mom's DILF list. His path was not always his own and even though he hurt Frankie I really think he did what he had to do. When his mission became Frankie, he pulled out all the stops.
Mack Daddy is told in alternating POV's and flashbacks. It worked for me. The flashbacks explained some of the angst between them. I enjoy being in the male character's head. The male perspective is always entertaining.
I enjoyed this book. I would recommend to all second chance romance lovers and readers who appreciate a hot single dad.
I was gifted a copy for an honest review.
Reviewed by Becky for Jo&IsaLoveBooks