Reviewed by Monique Cashmere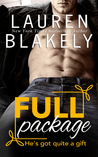 Full Package by Lauren Blakely
My rating: 5 of 5 stars
★★★★★
Sometimes things are right in front of our noses and we can't see what is good for us, when everyone else can. Sometimes we need to dip our feet in lightly before we plunge right in, and this is the case with Chase and Josie. You may remember, if you have read the previous standalones, that Josie is the sister of Wyatt and Nick the twins, and Chase is Wyatt's best mate. With everyone else partnering up, Josie and Chase decide to be roommates to solve each others living arrangement problems.
Is Chase the Full Package? I think so, he is an ER Doctor who's loyal, funny, sensitive and hard working. Let's not dismiss Josie – who also is the Full Package – she's smart, sassy, creative and energetic. Why wouldn't these two make the perfect couple? They just have to have more faith in their feelings but past relationships on both sides will make even the most romanic person wary of fully committing. Anybody can see that they are not only best friends but destined to be together.
I love the way Lauren can write the male POV so on point. And Chase was a dream to get inside his head. He is definitely one of my favourite characters she has written. Josie is a strong woman that has her own business, and knows exactly what she wants in all aspects of her life. I really enjoyed the way these two developed and worked through their insecurities and dilemmas. Another winner with this book.