Reviewed byMelinda Lazar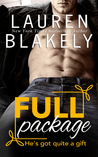 Full Package by Lauren Blakely
My rating: 5 of 5 stars
★★★★★
Oh this book!!!!! Loved it sooooo much!
Look, it's no secret that this series is one of my absolute favorites. I've loved every book with varying degrees but Big Rock had a very special place in my nerdy little heart and while all the others were way up there with all sorts of awesomeness, they didn't quite get to Big Rock levels. Until now.
Full Package is the perfect recipe for a friends to lovers slash roommates to lovers slash oldest friends sister. We have emergency room doctor, Chase – aka Dr McHottie, and his best friend Josie – the owner of Sunshine Bakery and, as Chase calls her, a world-class dessertier. Chase is having the worst luck possible finding an apartment to rent and Josie is in need of a roommate. They have a lightbulb moment and decide to move in together and why not? They're besties, they know each other as well as they can, and they have vague guidelines. And if there's a simmering attraction there, well they're both smart enough to lock that shit down. They both have reasons for wanting to ensure they won't lose the precious friendship they currently enjoy so are understandably hesitant in taking things to a new level. They both also know that when best friends turn to lovers, it's hard to get the friendship back. That's all well and good until limits are tested and they reach the (truly sexy) point of no return.
Do you want to know about the characters? Probably not so I'll be quick about them: likable is too mild a word for how I felt about Chase and Josie. Separately, they're fun and loving and yeah, likable but throw them together and they are phenomenally addictive.
I read every single word of this book with a smile on my dial, an occasional snort, and more than a few outright laughs. The book being told in Chase's viewpoint resulted in some seriously swoony moments most particularly, the moment he realizes he's in love with Josie. My heart is still all aflutter. We also get a bit of insight into Josie's thoughts in the form of recipes which adds a lovely touch to their story! And frankly, if I was the cooking kind, I'd be whipping up a dessert storm with some of these.
Aside from the relationship development, there were two other factors that I really loved. The first is that neither of these two was rich or came from any money. They both work damn hard for what they have and appreciate everything all the more for it. The other factor is -and I've said it before- Blakely just keeps giving us characters with close families and friends that genuinely care. I can't express enough how important that is for me when I'm reading. It absolutely enhances my reading experience and this book delivers it in spades. Chase's relationship and interaction with his brother Max had me cracking up as the dynamics there are so easy to relate to. Speaking of Max *deep breath* he's a tattooed mechanic, has a smart mouth, and muscles to boot. How soon can I claim him as mine????
I adore this series. You can read each book as a standalone and almost feel like you're part of the family when older characters pop in. As far as I'm concerned, Blakely delivers the Full Package with this delightful RomCom and wraps it up with a perfect bow.
*arc received in exchange for honest review.
**Reviewed by Melinda for Joandisalovebooks Blog.