Reviewed by Isa Jones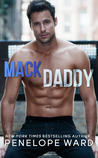 Mack Daddy by Penelope Ward
My rating: 5 of 5 stars
★★★★★
If one could only use one word to describe this book, mine would be; supercalifragilisticexpialidocious, well I never said that it had to be a short word LOL.
According to the English Oxford Dictionary, the definition of such word is: Extraordinarily good; wonderful, and that is what this book was.
Where to start; Even though this is not how the story begins, Francesca "Frankie" and Mackenzie who will be known from this point onwards as "Mack" met in the most peculiar of ways, I wont go into details and spoil the moment for you but let me tell you that when you read you will be in hysterics. After having to move out of her place Frankie asks one of her friends for a place to stay. She knew her friend had a roommate but never in a million years was she expecting to share the accommodation with such a perfect specimen of a man. Their first "interlude" is, as aforementioned one for the books indeed, and after a string of mishaps they hit it of and become friends.
Jane Austen used to say "conversation is a key element for from the talking comes the love" and the more time Frankie and Mack spent together the more they each learnt about each other and the harder they fell. However there is a tiny little issue, Mack has a girlfriend and family "expectations" thus preventing him from exploring those feelings. One thing I loved about Mack was his honesty and commitment, temptation was constantly lurking in the shadows yet he was always fighting for control. As their relationship deepens and blossoms and we think to know the direction of the story but we are pulled the other way bringing us back to the present day where Frankie is now a school teacher and Mack is suddenly standing in her classroom as the dad of one of her new students, YUP Mack Daddy is officially in the building!
So at the start of the book we see them in the now, and Penelope takes us on a journey of how it all began. With alternating POV's we are able to fully understand both leads and fall in love more and more with their compelling story and their dimensional characteristics.
There was some angst which had me in knots and of course last minute surprises which were being thrown into the mix making it such an entertaining read, I just couldn't put the book down.
I think by far they are one of my favourite couple from all of Penelope's books, I just loved their funny moments and their undeniable passion.
Mack Daddy is yet Another winner from Ms Ward list of #MustReads!
ARC received in exchange of an honest review.
Jo&Isalovebooks